2020 End of Year Awards Assembly.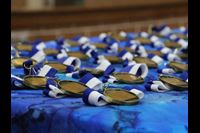 .
.
Congratulations to all the Award recipients today at our End of Year Awards Assembly. It was a lovely opportunity for us to finally be able to gather as a school in the Hall for the first time in a long time! Well done to the children who received the following awards:
- Academic Achievement, Christian Leadership and Individual Achievement Awards.
- School Leaders and Sport Colour House Leaders.
- Sport and Creative Arts Award.
- Mary MacKillop and School Service Award.
We said farewell to the teachers moving on to new positions next year and the families who are leaving our community and said a blessing prayer for them.
Thank you to all the parents who watched our live stream on YouTube, it was very successful. You are all able to watch the recording of the assembly via the same Youtube link that was sent in the note, skoolbag push and this week's Newsletter. Thank you.
Click here to see photos of the Awards 2020 End of Year Awards